Why is the FUE technique important? Let's look for an answer. It is the process of taking hair follicles with the help of micro motor and planting them in the needed area. It reduces the diameter of hair follicles by 0.5-0.8 mm. Of course, it is necessary to choose the most suitable and successful method with the necessary examinations and analyzes before this.
Why is the FUE technique important?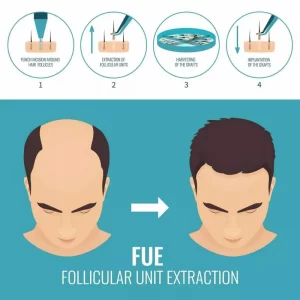 Hair transplantation with the fue technique Adding that in the fue technique, especially the nape region and behind the two ears, there is a priority, and if there is not enough freezing to be taken in these body parts, additional purchases can be made from the shoulder and chest regions. While the hair is transplanted into the most suitable areas for individual hair transplantation, the operation can be completed in as little as 4-5 hours, or it may take 8-9 hours and a few sessions of work to cover the results of further shedding. Suture marks, incisions, wounds are not experienced in any negative situation. It is almost impossible for such mishaps to occur in this method.
Hair transplantation with FUE Technique
In this process, only some crusty skin forms on your scalp. But within the first 10 days, this will completely disappear. It can plant 30-60 hair follicles per square centimeter. With fue, which is a very advanced technology, 10-12 thousand hair strands can be injected per day. A skin examination is performed after the surgery. Let us state that it is important to understand the healthy and final condition of the skin. Such analyzes represent critical values ​​for the surgeon to calculate the future.
Before the hair transplant operation to be performed with the FUE technique, expert opinion is taken. It is important to hear what kind of results it will lead and decide accordingly. In order for you to understand the results well, our surgeons will tell you how much or all of the regional spills can be covered after hair transplantation in computer environment. As they can convey this situation with 3D animations and graphics, it is important that you do not smoke or drink alcohol before the surgery, do not wash your hair for the first few days, and do not enter sea water for a while in extremely hot weather.
Hair Med is best hair transplant center in Turkey. Trust us!..