Hair Transplant Time: Structures containing hair follicles and some skin, taken from the back of the head and transplanted to areas with hair loss, are called grafts. In addition, the number of hair transplantation operations to be applied to the patient with the graft is called the session. Depending on the character of the hair, the duration of hair transplantation varies.
The higher the hair density in the non-shedding parts of the patient, the more the hair follicle to be removed. Since thick, black and curly hair strands are more occlusive, few grafts are sufficient; More grafts are required for thin, light-colored and straight-haired patients.
How long is the hair transplant period?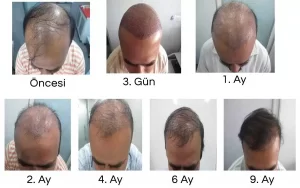 To answer this question, considering that approximately 3000-4000 grafts are taken in one session, we can say that the hair transplantation process takes between 6 and 9 hours on average. Depending on the sparseness of the patient's hair, the operation is performed in at least one and at most three sessions. The intervals between sessions vary according to the method applied. Between sessions, at least 40 days to 6 months should be waited. The aim is to increase the intensity between 25% and 35% in each session. If an intensity of 50%, 60% is achieved in the open area with two sessions, success is achieved. If the natural density of the hair in the area to be transplanted is considered as 100%, the difference between 50% – 100% hair density cannot be perceived. For this reason, the desired density ratio should be at least 50% of the natural hair density.
How does the process work in hair transplantation?
Planning is the most important part of the hair transplant process. In this process, issues such as the number of grafts, planting area, and the number of sessions are clarified. One week in advance, the patient should prepare himself for the operation. During this preparation; The use of aspirin and its derivatives should be discontinued. Alcohol and cigarettes should not be consumed, lotions, dyes and drugs that will affect the hair and skin should be abandoned in order for the hair to be clean enough.
You can return to daily life within 2 days after the procedure. In addition, crusting occurs around the grafts in the transplanted area. So, in other words, the crusts are cleaned within 1-2 weeks. In short, it is enough to wait for 15 days for recovery. The first hairs will come out in 3 – 6 months. Approximately 1 cm of growth is expected in the next month.
We tried to give information about the duration of hair transplantation. If you have more detailed questions, Hair Med is best hair transplant center in Turkey. We will be happy to answer you. Our health center is in Antalya. In our center, in addition to hair transplantation, eyelash, mustache, eyebrow and beard transplantation is also performed in Antalya.