Does Menopause Have Hair Loss: Menopause is the irregularity of menstrual bleeding in women, usually between the ages of 40 and 50. Then it means the cessation of menstruation completely. Menopause is considered a disease. It is inevitable that various problems will arise over time. Third parties often fail to notice the problems faced by women during menopause.
Does hair loss occur during menopause?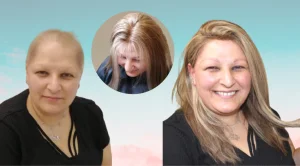 Does Hair Loss Happen During Menopause? Although many of its negativities are not noticed by third parties, it is unfortunately normal for hair loss to be noticed by other people. Hair loss during menopause is a problem for many women. Therefore, hair loss occurs as a result of some hormonal changes. In general, hair loss in women occurs not in a specific area, but in the entire region of the head.
However, during these periods, male pattern hair loss is inevitable for many women. In addition, it was observed that there were spills in the non-white hair follicles during this period. Since people are extremely stressed during menopause, it is natural to experience hair loss. Stress contributes to hair loss and becomes an endless cycle. The hair loss experienced by the women who want to be beautiful and well-groomed in their advanced ages disturbs the people quite a lot. Women who have already gone through a troubled period such as menopause also face hair loss.
The best thing to do in such a situation is to consult a doctor and look for solutions. Permanent hair transplantation is preferred more by people than temporary solutions.
Beauty is indispensable for every woman. Having beautiful and well-groomed hair is an important element for women of all ages. Women who have gone through the menopause period in their advancing age resort to hair transplantation as a solution when they are faced with hair loss.
Footnote: We perform hair transplant, beard transplant, eyebrow and eyelash transplant in Antalya with FUE technique. For more information you can send us a message to our WhatsApp contact number.